The Paris Review No. 198 Fall 2011
---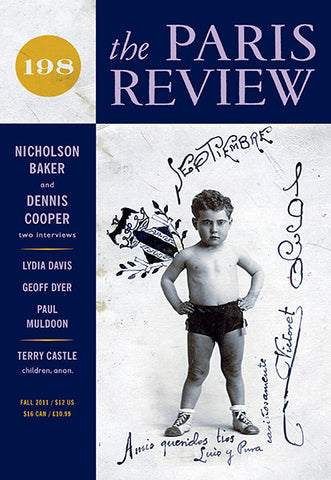 Preview issue no. 198 at theparisreview.org. 
The third installment from Roberto Bolaño's The Third Reich, with new illustrations by Leanne Shapton. 
Nicholson Baker and Dennis Cooper on the art of fiction.
Lydia Davis on translation and Madame Bovary and Geoff Dyer on Andrei Tarkovsky's Stalker. New fiction from Kerry Howley. Anonymous photographs of children from the personal collection of Terry Castle. 
Poems by Brenda Shaughnessy, Paul Muldoon, Forrest Gander, Sharon Olds, Constantine P. Cavafy, Meghan O'Rourke, and Jeff Dolven.
Related Products
---