The Paris Review No. 221, Summer 2017
---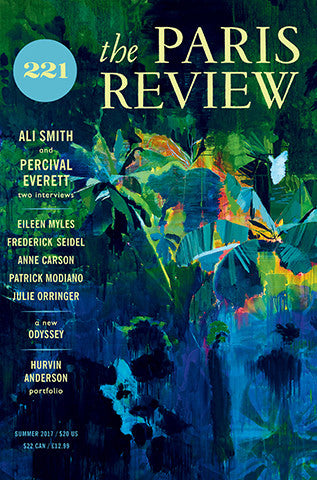 Ali Smith on the Art of Fiction: "We are living in a time when lies are sanctioned. We have always lived in that time, but now the lies are publicly, rhetorically sanctioned." Percival Everett on the Art of Fiction: "I'm not a natural storyteller. I start with something that bugs me, some philosophical problem, and then I look for a way to explore it."
New fiction by Anne Carson, Caleb Crain, J. M. Holmes, Chris Knapp, Patrick Modiano, and Julie Orringer.
Poems by Amanda Auerbach, Stephen Burt, John Freeman, Dana Goodyear, Homer, Ben Lerner, Eileen Myles, Meghan O'Rourke, Frederick Seidel, and Jeffrey Yang (with art by Kazumi Tanaka).
Portfolio of paintings by Hurvin Anderson, curated by Charlotte Strick.
Related Products
---