The Writer's Chapbook: A Compendium of Fact, Opinion, Wit, and Advice from "The Paris Review" Interviews
---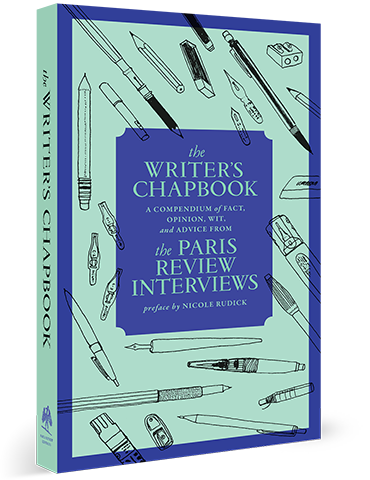 We're happy to announce the second volume from Paris Review Editions:
The Writer's Chapbook: A Compendium of Fact, Opinion, Wit, and Advice from "The Paris Review" Interviews.
In 1989, George Plimpton compiled a survey of writers on writing—anecdotes, aphorisms, and excerpts culled from the Writers at Work interviews. Our new, updated edition brings together almost four hundred writers, editors, and translators from issue no. 1 to issue no. 224 to provide a rare glimpse of what being a writer is really like. Divided into four parts—"The Writer: A Profile," "Technical Matters," "Different Forms," and "The Writer's Life"—the book dilates on subjects such as first efforts, work habits, plot, writer's block, prizes, and politics. Here are Gabriel García Márquez, E. M. Forster, Toni Morrison, Henry Green, Elena Ferrante, Arthur Miller, William Gibson, John Berryman, and many more discussing the nitty-gritty of the craft of writing.
Printed on acid-free paper, in a limited edition,
The Writer's Chapbook
is available exclusively from
The Paris Review
, with all proceeds going to support the magazine.
---
Paris Review Editions, 2018, Paperback, French flaps, 390 pages.
Preorders ship in early April.
U.S. orders will ship on a weekly basis; please expect 2 weeks for delivery, unless you chose expedited shipping.
Canadian and international orders will ship on a monthly basis beginning mid April. Therefore, please allow approx. 8 weeks after purchase date for delivery. Depending on when you place your order, or your proximity to a city, it may arrive sooner.
If you have any questions about your order or would like expedited delivery, please email store@theparisreview.org.
Related Products
---